Team NFSA Reps Fastestwater at NFPA Expo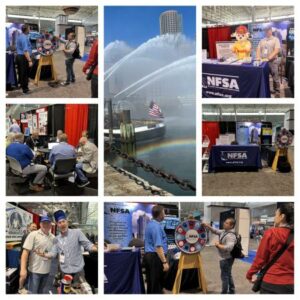 To say the National Fire Sprinkler Association team was pleased with the turnout at our booth at the NFPA Expo is an understatement! We couldn't have been happier to be able to be back in person at the Convention Center in Boston!
There was constant traffic at the booth, attracted by our now famous #fastestwater prize wheel, which we were told could be heard spinning from quite a distance away! While they came to see what all the excitement was about, many stayed to talk about fire sprinklers. We enjoyed answering many questions about the association, membership, technical problems, side-by-side demos and so much more.
We collected quite a few business cards from attendees interested in joining the National Fire Sprinkler Association. Our EOD handbooks were a big hit, with many stopping by to look through the books and commenting on the great content. We also sold quite a few copies!
Thanks go to Dave Kurasz, Joanne Genadio, Frank Ellis and Dave Davis for staffing the booth and engaging with the many members, and prospective members-to-be, that stopped by to talk #fastestwater!
National Fire Sprinkler Association staff and members were selected to present at several NFPA education sessions. Allies and partners invited our staff to be guests at several receptions and events, such as the AFAA Annual Breakfast and an exclusive tour with Reliable Automatic Sprinkler of a vintage FDNY fire boat.
The National Fire Sprinkler Association Engineering and Standards Committee members attended and participated at the NFPA Technical Meeting and voted in the next edition of Codes and Standards, including the 2023 edition of NFPA 25.
For more information on the NFSA's mission to protect lives and property across the country, be sure to follow us on social media. To keep up to date with NFSA events in your area, be sure to check our event calendar regularly.