Rolls Right Off the Tongue – Regulating, Restricting and Reducing
Rolls Right Off the Tongue – Pressure-Regulating Devices, Pressure-Restricting Devices & Pressure-Reducing Valves
By Terin Hopkins
When we discuss the requirements of regulating pressure in standpipes, we often get tongue-tied between the three R's of regulating, restricting and reducing. While the difference between them is significant, it's really not too complicated. Take a look as we break down these three defined categories and describe each term.
Pressure-Regulating Devices
Pressure-regulating device is the generic overall term used to describe any and all devices used to reduce, regulate, control, or restrict water pressure. They come in many forms and can be either direct-acting on or part of a hose valve, or indirect-acting and inline in the system. They can be factory set or field adjustable or as simple as a disc with a hole. Any and all devices used for the purpose of reducing, regulating, controlling, or restricting water pressure fall under this blanket umbrella.
Pressure-Restricting Device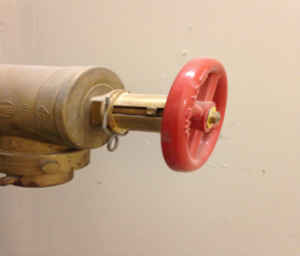 Pressure-restricting devices (PRD) were used in pre-1993 designs to regulate pressures exceeding 100psi. They restrict flowing or residual water in order to regulate pressure. Restrictors are often attached to the stem of a standard hose valve, gating or restricting flowing or residual water to a predetermined setting. They can also be standalone plates or devices used at the hose outlet, once again restricting flowing water in order to regulate pressure. The standard hose valve has been similarly used by the fire department, during operations for decades, to gate the valve and restrict flowing water in order to achieve a desired pressure.
Pressure-restricting devices can be removed, defeated, and fully opened allowing the hose valve to flow the total available water supply, understanding we are typically in the pre-1993 design with outlet design pressures of 65psi minimum and 100psi maximum.
NFPA 1 Fire Code and NFPA 14 Standard for the installation of Standpipe and Hose Systems both allow the Authority Having Jurisdiction (AHJ) to require the existing 2 ½ in. hose valve equipped with a pressure-regulating device to be removed and replaced with a standard hose valve when the static pressure does not exceed 175psi. This allows fire departments to utilize any additional pressure in older pre-1993 systems, by increasing the maximum allowable pressure of the earlier design of 100psi and increasing it to the maximum pressure of today's 175psi.
Pressure-Reducing Valves
Pressure-reducing valves (PRV) are used in post 1993 designs to reduce both flowing (or residual) and non-flowing (or static) water. Pressure-reducing valves can be direct or indirect acting, meaning at the hose connection or inline in the system and are used to regulate pressures exceeding 175psi. This is the only pressure-regulating device allowed in new construction as it must be capable of regulating both flowing residual and non-flowing static water and can be either factory set or field adjustable.
These valves are often used in combined sprinkler-standpipe systems to regulate both the sprinkler and standpipe pressure. In the picture you can see a field adjustable indirect PRV equipped with the required hose valve for testing is installed to supply the sprinkler systems, while a direct acting factory set PRV is installed for fire department operations.
The fire service valve is appropriately installed 36 in.-60 in from the floor and is protecting firefighter from injury from systems exceeding 174 psi. When testing hose valves are installed in that range of 36 in. – 60 in., they may present a danger to firefighters that mistakenly attempt to use them for fire operations.
DO YOU HAVE A QUESTION ABOUT Pressure Regulating Devices? THE NFSA CAN HELP YOU
If you have a codes questions the National Fire Sprinkler Association (NFSA) is ready to help! NFSA members have unlimited access to the association's Expert of the Day service.
This service provides members with a codes interpretation in less than one business day! For more information on our Expert of the Day service, or to become an NFSA member, visit our membership page today!