NFSA Live Fire Sprinkler Demonstration/Training Unit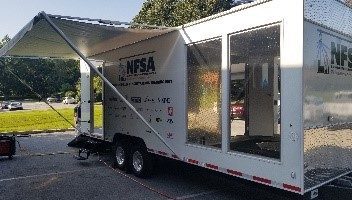 Since my start with NFSA, President Shane Ray has had a vision to build a valve training trailer for use by fire service operations, building owners, and contractors. With the help of several members of the NFSA team that vision is now reality. With what is the first of possibly several valve training trailers in our future, we have our flagship on the road. This trailer is 24' long and equipped with Class I, II, and III standpipe, two looped floor control assemblies, 4" wet riser, 4" dry system, and a 4" double interlock with cross zone detection pre-action system. It also has a nitrogen system as well as a 13D tank and pump system. This is all monitored and released with a full fire alarm and releasing panel.
This rolling sprinkler valve lab has a unique feature, which is a 7 X 7 burn room with a horizontal sidewall sprinkler installed. This allows a fire to be lit and demonstrate the operation of any of the installed systems as they were intended to work.
We cannot thank our members that helped make this happen enough!