May 19th Spotlight
Spotlight on Fire Sprinklers – May 19, 2023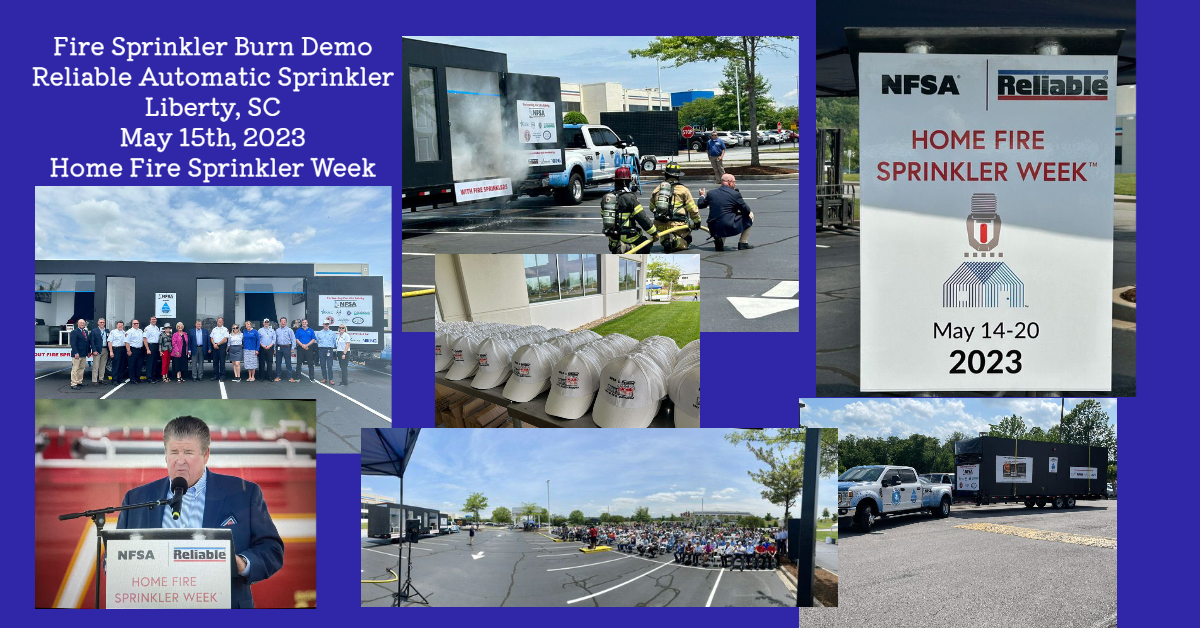 Home Fire Sprinkler Week Kick-Off
Team NFSA was thrilled to be at Reliable Automatic Sprinkler's Liberty, SC facility to kick-off Home Fire Sprinkler Week. We executed a flawless fire sprinkler burn demo using a trailer that was then donated to the South Carolina Fire Sprinkler Coalition. The event was broadcast live on YouTube. You can still watch this great initiative in action here. The broadcast begins at minute 11:51.
Our thanks to the Home Fire Sprinkler Coalition and NFPA for coordinating outreach and supplying materials for Home Fire Sprinkler Week. We are elated at the amount of Fire Departments and Fire Sprinkler Advocates that are taking part by hosting side-by-side demos and posting fire sprinkler facts on social media. The number of involved departments grows every year, and we sure see this trend continuing.
Thanks also go to the Fee Family and the entire Reliable Team, the South Carolina State Firefighters Association, the Liberty Fire Department, and Common Voices advocate Pam Elliott, who spoke at the demo regarding her experience as a home fire burn survivor and the difference fire sprinklers could have made.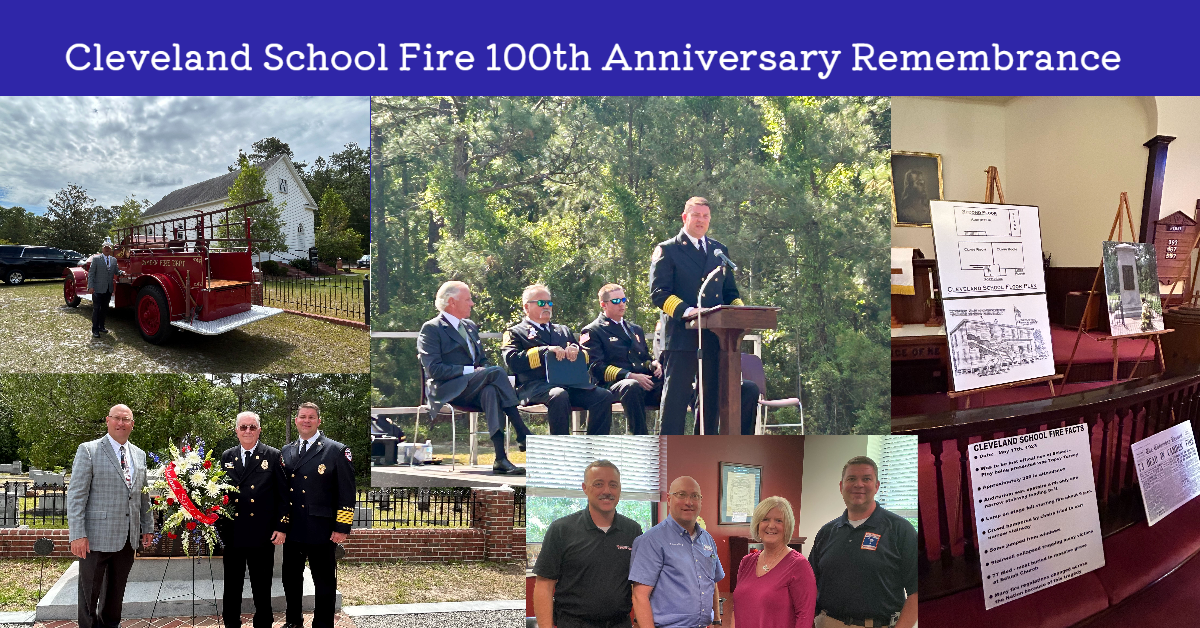 Cleveland School Fire 100th Anniversary
On May 17th, Vickie Pritchett and I were honored to be part of the Remembrance Ceremony of the 100th anniversary of the Cleveland School Fire in Camden, SC.
The Cleveland School was a rural school that was constructed in the early 1900s. The school was two stories and contained three classrooms.
The fire occurred during an annual play that signified the end of the school year. That night, nearly 300 people were estimated to be present on the second floor assembly area when fire broke out. As the only exit, a single stairway became jammed with people and eventually collapsed, many jumped from the windows to survive. 77 people lost their lives. This fire impacted local, state, and national codes regarding school safety.
We joined in a recognition service that was held at the memorial site and a processional to the mass grave site at Beulah Church. SC Governor Henry McMaster, State Fire Marshal Jonathan Jones, Chief Carter Jones and the Superintendent of the SC Fire Academy Jason Pope were among those in attendance.
It truly was a moving experience we won't soon forget, and also an inspirational reminder of why we do what we do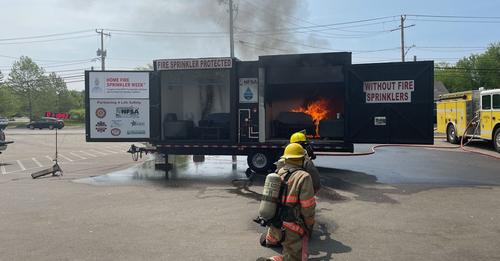 Massachusetts State Fire Marshal & Hadley Fire Dept. Host Side-by-Side Burn Demo
On May 16th, the MA State Fire Marshal and Hadley FD hosted a side-by-sdie burn demo that received some great media coverage!
​​​​​​​Fire Marshal Peter Ostroskey narrated the burn and told onlookers that fire sprinklers can preserve homes and give people more time to escape a fire safely. "Without a sprinkler, it will get to full open burning within three to three and a half minutes, whereas a single sprinkler with a very small, with about 13 gallons a minute, significantly reduces a fire," said Ostroskey.
Our thanks to these Partners in Progress! Following are some links to the many media reports of the event.

Waukee, IA FD Hosts Live Burn Demo
On May 13th, the Waukee, Iowa Fire Department hosted a live burn during a pancake breakfast event that attracted over 1.000 attendees. We'd like to commend the Department for the excellent outreach, both before and after the event, that surely contributed to it's success. Be sure to scroll through their Facebook page to see the excellent posts used to promote both the day and the fire sprinkler concept. Thank you to these Partners in Progress!
High-Rise Sprinkler Save
Thanks to Cambridge MA Fire Department for posting this great save on their Facebook page, tagging us, and highlighting the fastestwater difference during Home Fire Sprinkler Week.
On May 15th, a fire in an apartmentt of a 22-story residential bldg in East Cambridge, MA was quickly contained to one room by one operating sprinkler. Fire companies quickly arrived to overhaul, ventilate, check for extension & treat 1 minor burn injury.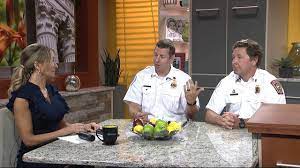 Myrtle Beach Fire Dept. Provides Tips for Home Fire Sprinkler Week
Capt. Jonathan Evans and Brian Mitchell of the Myrtle Beach, SC Fire Department sat down with a WXFB-Fox TV reporter to discuss the life- and property-saving benefits of home fire sprinklers. Be sure to give this video a view and a share! You can follow MBFD on their Facebook page or on Twitter.
Once again, on behalf of the entire NFSA Team, I'd like to express my thanks for the tremendous support we have seen during Home Fire Sprinkler Week by so many fire departments across the country! We couldn't be prouder!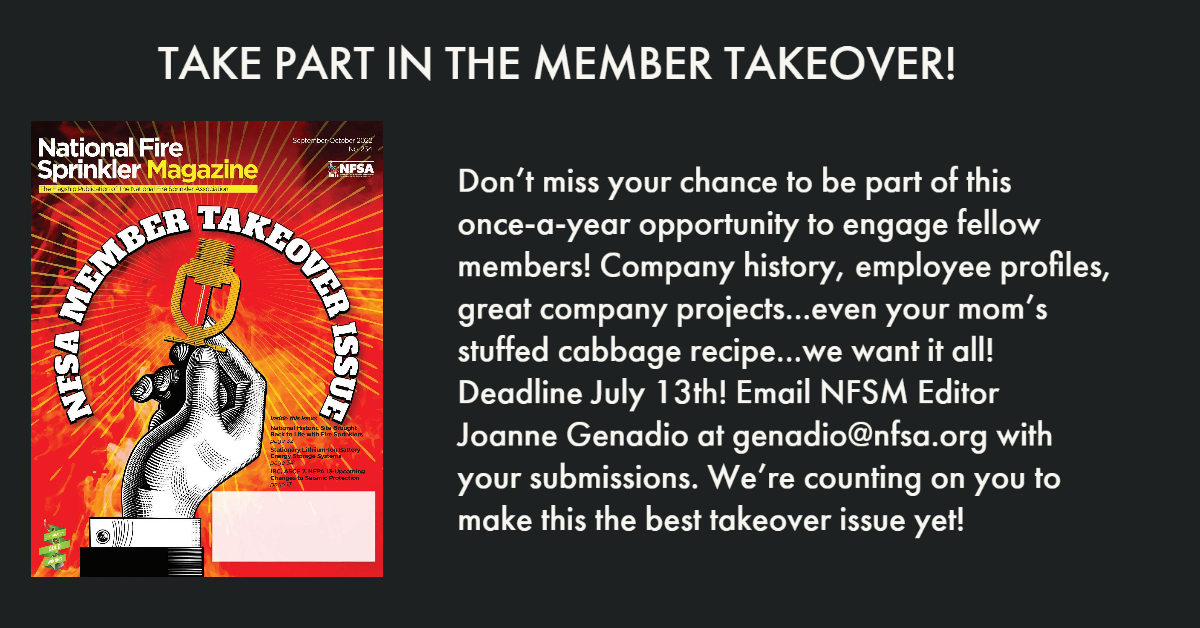 Sprinkler Saves and Social Stats