How to Become a Fire Sprinkler Fitter | Career Paths
Want to learn how to become a fire sprinkler fitter? Read on to learn more! For more resources, contact the NFSA today!
Anyone who browses social media or watches the news is probably aware of the need for talent in trades. Now more than ever there is a need for skilled workers in several disciplines, from plumbing and electric, to HVAC and everything in between. The NFSA offers insight on how to become a fire sprinkler fitter.
Fire protection is no exception, particularly when it comes to fire sprinkler fitters. And while fire protection may not be the first thing that comes to mind when we think of the trades, a career as a sprinkler fitter should not be overlooked.
With construction booming across the nation and many workers soon retiring, there is a high demand for qualified sprinkler fitters, but what exactly does this job entail?
Fire Sprinkler Fitters Play a Key Role in Saving Lives
Properly functioning plumbing, electrical and HVAC are all critical, no doubt, but none of them have the lifesaving capacity of fire sprinklers. Sprinkler fitters save lives every day by installing fire sprinklers. These systems are set to react in the event of a fire, and sprinkler fitters work to make sure these systems are properly designed per the plans provided.
The type of work can vary by the project. Some sprinkler fitters work with CPVC piping while others handle larger steel piping for commercial projects. Sprinkler fitters must know how to work with a variety of tools, including pipe cutters, threading/grooving machines, drills, saws, and wrenches, and must also be available to work both indoors and outdoors and must be comfortable handling heights.
Sprinkler fitters must also have effective communication skills when it comes to working with different trades, the ability to lift heavy pipe and other materials, and the comprehension skills needed to read design plans.
It's not just installation, however. Sprinkler fitters also handle inspection, testing, and maintenance work for fire sprinkler systems. This can involve conducting flow tests, removing pipe, or even replacing sprinklers after an activation.
How to Become a Sprinkler Fitter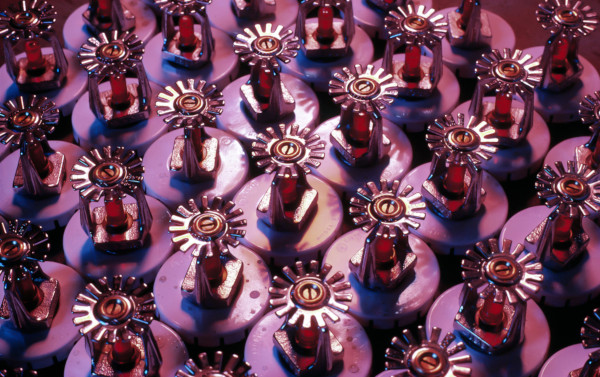 There are several avenues into an exciting career as a fire sprinkler fitter. One place to start would be to reach out to an NFSA contractor in your area. Many contractors are looking to hire, and they can point you in the right direction. Whether it's to a Local Union Hall or a company training program, several options exist for those looking to become fire sprinkler fitters.
Fire Sprinkler Fitters Have Several Career Paths
While installing fire sprinklers is a rewarding career alone, sprinkler fitters also have plenty of room for growth in a several directions. After a few years on the job, a sprinkler fitter can work as a foreman, layout technician (designer),  project manager or can work in sales or estimating, to give just a few options. Some sprinkler fitters even choose to open their own companies!
The National Fire Sprinkler Association has contractor members across the country looking to hire talented individuals who share their passion of protecting lives and property. For more information on the fire protection industry, contact the NFSA today!