Member Monday: Piper Fire Protection Keeps West Central Florida Safe!
NFSA staff sat down with Joe Johnson, Inspections Manager with Piper Fire Protection, to discuss the company's history, notable projects, and relationship with the NFSA.
Joe shared that Piper Fire Protection was started by his father in the late 1980's out of his garage. Joe's brother Chris Johnson eventually became involved the company. As Piper Fire Protection secured more projects and began to grow, they outgrew the garage and moved to an office. Today Piper Fire Protection has offices in Clearwater and Sarasota, Florida, and installs fire sprinklers in Florida, primarily in West Central Florida.
Paving the Way as a Florida Fire Sprinkler Contractor
Piper Fire Protection has grown exponentially since the 1980's and so have its services! "We do it all," Joe explained, "Residential, high-rises. We opened our alarm division in the late 90's and have opened an extinguisher shop and we do hood and clean agent systems."
Notable projects include The One in St. Pete, Westin Vue Sarasota, NINE 15 Franklin Residencies, Opal Sands, Aquatica on Bayshore, The Sanctuary, Marker I's New Boat Barn, Synergistic Spa, Storage Authority, The Sanctuary at Alexandria Place, Marina Pointe, and Sarasota Fuel Station, to name a few! Piper has also retrofitted the Manatee Memorial Hospital and the Sarasota Memorial Hospital. The company has also installed several systems in Anechoic chambers for defense contractors and has installed systems for the new terminal at the Fort Myers Airport.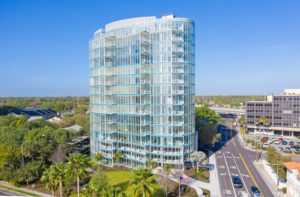 Advocating for Fire Sprinklers in Florida
Piper Fire Protection has been an NFSA member for quite some time now. Joe explained that he is a member of the Board of Directors for the Florida Fire Sprinkler Association, a chapter of the NFSA. Joe serves as the Chair for the ITM Committee on FFSA Board. This committee worked together to pass legislation in Florida this year that would require using a uniform summary report across the state.  One form for all companies whether reporting directly to the jurisdiction or through a third-party company.
Giving Back
It's not all high rises, complex industrial projects and legislative work in Tallahassee for Joe and his team, which is why Piper Fire Protection prides itself on its charitable work. The shop holds a golf outing to benefit the Children's Burn Foundation. So far, Piper has raised over $30,000 for this foundation!
Piper has also sponsored several side-by-side fire sprinkler demos with local fire departments. Joe is very proud of the community service and added that Piper Fire Protection has been involved with Habitat for Humanity, donating labor and materials.  Many youth sports leagues also appreciate Piper Fire and their sponsorships to several local teams in the area.
Piper Fire Protection and NFSA
Joe takes advantage of being an NFSA member.  His company finds the most value is Learning and Development, particularly inspection classes and anything that can help with NICET renewals, as well as Technotes and other NFSA publications. Joe is also very active in the Florida chapter; as a board member he has learned so much about the legislative processes and working with likeminded members to work toward a fire safe Florida. As a member of NFSA, Piper Fire Protection has been involved in local events such as the FFSA Buddy Dewar Golf Classic and FFSA Hawk's Cay conference. Joe is proud to a part of Piper Fire Protection and their involvement and their membership with the NFSA.
To learn more about Piper Fire Protection, visit their site here.