Fire Sprinkler Campaign Takes the Puget Sound by Storm
You can't turn around in the Seattle area without running into a billboard, TV ad, digital ad, or news show promoting fire sprinklers! The Fire Sprinkler Advisory Board of Puget Sound is utilizing the "Time Buys Life" campaign materials in a month-long blitz.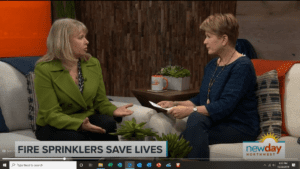 On Oct. 28 I was a guest on KING 5's "New Day" lifestyle talk show with the NBC affiliate's well-known host Margaret Larson. We talked about why you should ask for sprinklers in your home, and featured Home Fire Sprinkler Coalition dramatic footage of two rooms on fire, one with sprinklers one and one without. The interview ended with Ms. Larson—whose resume includes the Today Show and work as a foreign correspondent–saying "that's brand new information to me!"
This is the third year that the FSAB of Puget Sound has run a billboard campaign. The best location spotted this year so far is a billboard in the Mariners and Seahawks/Sounders stadium area on top of a building sporting a Seahawks mural celebrating the teams' fans, knows as "12s." What a winning combination!
While already getting extensive airplay, NFSA's 30-second spot will have its largest audience when it runs during the Nov. 10 Seahawks broadcast. This is also the day the Seattle Times will be featuring an "advertorial" in its Sunday print and digital editions highlighting the importance of sprinklers. As a run-up to the fire sprinkler piece, the Times will run digital ads that feature the company logos of NFSA contractor members who support the FSAB of Puget Sound industry promotion fund. This is a great way to say "thank you" to our loyal contractor members!