Side-by-Side Event in Andover, MA
Andover Fire Department Open House, hosted by Fire Chief Michael Mansfield on Saturday October 19th at Fire Headquarters included a Side-by-Side Residential Fire Sprinkler 'Live Burn' Demonstration in cooperation with the Massachusetts Department of Fire Services, Division of Fire Safety, State Fire Marshal Peter Ostroskey, The MA Fire Sprinkler Coalition and the National Fire Sprinkler Association.
An audience of 100 residents and guests were on hand to tour the station and see the services that the Andover Fire Department provides; including Fire Prevention, Public Fire & Life Safety Education, Emergency Medical Service and Rescue.
Chief Mansfield addressed the crowd, welcoming them and thanking them for their support before describing the demonstration they were about to see. The Fire Chief recognized local town and state officials as well as Cynthia Ouellette, Fire Data and Public Education Coordinator at the Division of Fire Safety.
NFSA New England Regional Manager, Michael Young, narrated during the demonstration to compare the drastic difference between two identical rooms, both on fire, but with one major difference; the room on the right had only a smoke alarm, while the room on the left was equipped with a smoke alarm and most importantly a single residential fire sprinkler head, which activated in just 15 seconds to contain and control the fire. The other room, without sprinkler protection, became totally engulfed in flames in only 90 seconds destroying all of the contents. The room protected by the fire sprinkler system had very minor damage from smoke and fire. The items may have been wet, but things that get wet can be dried, Nothing Un-Burns!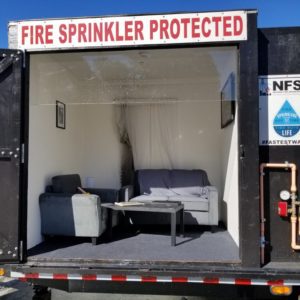 Today's modern fires develop fast, due to lightweight materials of construction and synthetic materials used in building furnishings contribute to higher heat release rates, resulting in far less time for occupants to safely exit dwellings.
The goal of the demonstration is to stress how rapidly fire grows and spreads, creating thick, dense smoke, toxic fire gases and heat which can make escape uncertain. Residential Fire Sprinklers respond quickly to heat; the head closest to the fire is often the only one to open, keeping fires small and permitting occupants time to escape to safety.