2019 Fall Fling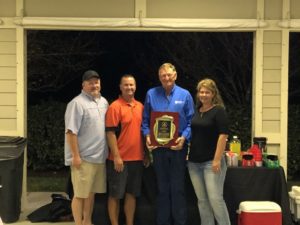 The changing of the leaves, the lowering of the temperature, and crisp fall Tennessee nights mean it is time for Fall Fling. This year the annual event, which brings together fire sprinkler contractors, engineers, layout technicians, and fire authorities from the both state and local government occurred September 25-28 in Pigeon Forge, TN. This year's speakers for the training sessions included industry manufacturers, suppliers and NFSA staff. The goal of this event is to bring together the fire sprinkler industry to build both the relational, intellectual, and technical capital that is necessary to ensure good fire protection continues in the state of Tennessee. The quality of the training is one of the things that sets both NFSA events and contractor members apart from the rest.
After 35 years of dedication service to the Tennessee Fire Sprinkler Contractors Association (TFSCA) in more ways than can be articulated, Richard Smith, decided to retire and enjoy time on the farm with his family. Richard's contributions to the fire sprinkler industry in Tennessee have been instrumental to the success of the industry. The TFSCA Board of Directors expresses their gratitude to Richard and wish him continued happiness and success in his retirement. Although retired, Richard with continue to awe us with culinary skills as the master chef for the TFSCA annual cookout in May.
It would not be Fall Fling without cornhole and the inclusion of family in the event. As many members have said, without the support of their families, none of the work they do would be possible. To that end, the TFSCA makes sure the Fall Fling has plenty of opportunities for family members to enjoy one another and foster new relationships, which was on full display during the closing cookout, complete with several friendly rounds of cornhole.
"I am especially proud to have taken part in this great event, said Regional Manager Brian Biggs. "Our Tennessee members dedication to putting on a first-class event, with first class speakers and great networking, gets better and better every year. I highly encourage everyone to watch for information on the 2020 Fall Fling and to make it a point to be there! Members supporting members is what it's all about."