You Can Bet Your Pedicure that Fire Sprinklers are Good for Small Businesses!

Within a half hour of closing up for the day, an electronic massage chair in a Washington state strip mall nail salon burst into flame. When Camas-Washougal Fire Department crews arrived, they found the fire out and controlled by a single fire sprinkler. The photo tells the story better than words: the fire was contained to a single massage chair that was blackened just prior to sprinkler activation. On either side of the blackened chair are pristine massage chairs, ready for the next pedicure client.
Fire crews provided smoke evacuation and squeegeed water out the front door before going back in service to serve the next citizen needing help.
According to Deputy Fire Marshal Randy Miller, the businesses on each side of the nail salon had some minor water damage but with minimal effort by restoration services overnight they were able to open the next day for business. Although the nail salon required more time before reopening, the building managers were grateful they were not having to repair more extensive damages such as roof ventilation or extensive heat and smoke damage that would have occurred without a fire sprinkler system.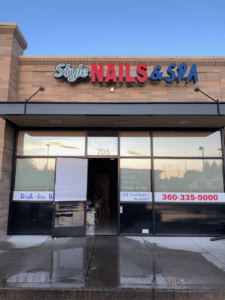 I remembered reading about another nail salon fire a few years ago in my area. This fire burnt down a whole strip mall, sending the affected small business owners into a tailspin and immediately sending dozens of these burnt-out businesses' workers to the unemployment line. Check out this story in the Seattle P-I to see the difference between a sprinklered building and an unsprinklered building:
https://www.seattlepi.com/local/article/Fire-destroys-4-stores-at-Renton-strip-mall-1247465.php
Maybe NFSA can adopt this new slogan: You can bet your pedicure that fire sprinklers are good for small businesses!